Dr. Mary Nyangweso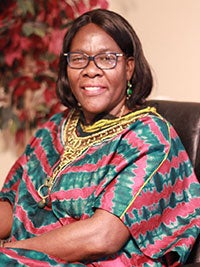 Professor and Peel Distinguished Chair of Religious Studies
Director, Religious Studies
252-737-2422
Brewster D303
wangilam@ecu.edu
---
Biography
Dr. Mary Nyangweso is the J. Woolard and Helen Peel distinguished professor in Religious Studies at East Carolina University (Greenville, North Carolina).
She earned her Doctor of Philosophy in the Sociology of Religion (PhD) at Drew University. She also received her bachelor's in education at Kenyatta University, Nairobi Kenya; Master's in Philosophy (Religion) at Moi University, Eldoret, Kenya; Master's in Theology at Candler School of Theology, Emory University, Atlanta, Georgia.
Dr. Nyangweso specializes in African religions, Islam, Religion and sexuality, Religion and gender rights and Religion and Healthcare. She examines socio-cultural determinants of gender-based violence, and health and other issues from African, Christianity and Islamic perspectives. She has published extensively on matters related to domestic violence, female genital cutting and HIV/AIDS. She is author of two books; Female Genital Cutting: Mutilation or Cultural Right? (Praeger, 2014) and Female Circumcision: the Interplay between Religion, Gender and Culture in Kenya (Orbis, 2007) and co-editor of Religion in Gender Based Violence, Immigration and Human Rights and editor of World Religions in a Global Society: A Reader (2021). She has also authored several peer review journal articles and book chapters on religion and on women in Africa including Religion and Disability in Africa. Dr. Nyangweso is also a human rights activist advocating for gender rights and social justice. She has received many other honors including a Fulbright Award.
---
Courses Taught
Theory & Methods in Religious Studies
Social Theory & Analysis
Religion & the Social Process
Introduction to Religious Studies
World Religions
Classical Islam
Religion & Sexuality
African Religions
Women & Religion
Indigenous Religions
Native American Religions
Christian Religious Education
Religion & Society
Life & Teachings of Jesus & Prophet Muhammed
Contemporary Christian Thought
---
Publications
Books & Anthologies
World Religions in the Global Society: A Reader, Cognella, 2020, (Edited volume) in print
Religion in Gender-Based Violence, Immigration and Human Rights, Routledge, 2019
Female Genital Cutting in Industrialized Countries: Mutilation or Cultural Tradition? ABC Clio Praeger, 2014.
Female Circumcision: The Interplay between Religion, Gender and Culture in Kenya , Orbis Books, 2007.
Journal Articles
Multiculturalism and Women's Rights: Implications for Victims of Female Genital Cutting." Religions, 13(4), 367, April 2022.
"Religion, Gender, and Politics in Kenya: Challenges of Female Leadership in the 21st Century," Journal of African Interdisciplinary Studies, 4(2) 16-32, 2020
"Reclaiming Religion, Religious Studies and the Humanities in the Academy and in National Development" at American Research Journal of Humanities and Social Sciences, 2019
"Religion, Human Rights, and the African Widow," Peace Human Rights Governance 1:3, November 2017, 365-391.
"Intersectionality, Education and Advocacy against Sexual Violence." Journal of Feminist Studies of Religion, 2017, 33:1, 180-182
"Negotiating Cultural Rights to Affirm Human Rights: Challenges Women Face in the 21st Century." Journal of Religion and Violence Vol. 4(1), 2016, 39-57
"Negotiating Agency and Human Rights in Islam: A Case of Muslim Women in Kenya." Contemporary Islamic Studies, Vol. 1, February 2012, 1-15.
Book Chapters
"Witches of the 21st Century: How Resilient African Spirituality Speaks to African Identity in Changing times" Religion, Identity, and Values: Rethinking Africa's Development, edited by Ezra Chitando and Eunice Kamara.
"Disability in Africa: A Cultural/Religious Perspective," Disability in Africa: Inclusion, Care, and the Ethics of Humanity, edited by Toyin Falola and Nic Hamel, University of Rochester Press, 2021,115-136
"Religion, Gender-based Violence, and the Rights of the Girl Child in Kenya" Religion in Gender-Based Violence, Immigration, and Human Rights, Routledge, 2019, 121-138
"Immigration and Gender-Based Violence in the West," Religion in Gender-Based Violence, Immigration and Human Rights, Routledge, 2019, 230-247
"Clerics and Community -based Organizations as agents of Social Change" Religion in Gender-Based Violence, Immigration and Human Rights, Routledge, 2019, 266-279
"Battling a 'War within a War': Challenges of Being Female in Africa," Female Child Soldiering, Gender Violence and Feminist Theologies, edited by Susan Willhauck, Palgrave, 2019, 124-144.
"Religion After the Medical Miracle: Recovering 'Disability' as Religious Analytic of Social Suffering," Disability in the Global South: The Critical Handbook, co-authored with Sharon V. Betcher, Springer International Publishing, Switzerland, 2016, 117-132
"African Traditional Religions," Understanding the Religions of the World, Pearson, 2015
Social Determinants of Reproductive Health in Kenya
---
World Religions 101
Faith Based Initiatives, Social Transformation and Community Development
---
Speaking Initiatives
Religion, Gender and Democracy in Africa
African Religions
Religion and Sexuality