Scholarships and Awards in Religious Studies
East Carolina University provides a variety of scholarships opportunities to incoming freshmen, transfer students, and existing students. Scholarship opportunities can be located by visiting the ECU On-line Scholarship Management System – ECUAward. Applicants use their ECU credentials (Pirate ID and password) to gain access to the general scholarship application and a variety of conditional applications and "apply to" opportunities that may display on your student scholarship dashboard should you be eligible for those programs. Instructions for using the portal, ECUAWard can be found here. Scholarships are offered each academic year and the funds are typically spread across the academic year with 50% of the award paid in the fall semester and 50% paid in the spring semester. Most scholarships have specific eligibility criteria which may range from something as simple as being from a specific county or geographical region to being an active volunteer with a certain service group. Others will have specific Grade Point Average (GPA) and/or test score requirements and may contain a requirement for demonstrated Financial Need.
Please review the descriptions of each opportunity listed on ECUAWard to determine whether your application meets the specific requirements. All scholarships are subject to the availability of funds and may not be awarded each year depending on the current economic conditions.
Below is a list of some of the premiere nationally and internationally competitive scholarships. Students are asked to take advantage of these opportunities. Click on the scholarship name below for additional information. Take note of eligibility and deadlines requirements. When in doubt, contact the director of the program – Dr. Mary Nyangweso, or your advisor for assistance.
---
National and International Scholarships
Eligibility requirements and deadlines vary.
For more information and to apply, click on the link below:
Office of University Scholarships
---
Awards
Religious Studies may give award students who demonstrate excellence in academic work. Students need not apply for awards. At a given time in each academic year, Religious Studies faculty will meet to determine students that are eligible to receive awards upon which a vote will be conducted to decide those that receive the award(s).
Eligibility requirements of the award include being a major in Religious Studies.
Judith Whichard Scholarship Recipients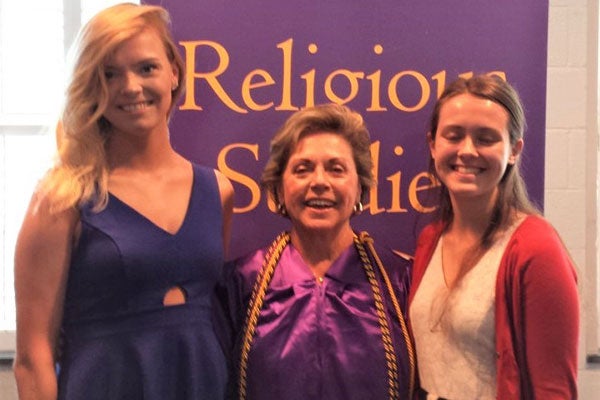 Hadleigh Painter and Zealy Helms, with Judy Whichard (center)
2019 Recipients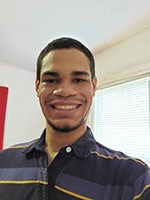 William Pierce
2020 Recipient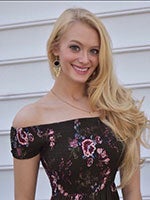 Mackenzie Swift
2021 Recipient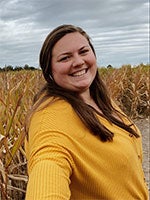 Ann Doub
2021 Recipient